Are you looking to develop and grow your business? BecomeAnExpert
Sep 13
Are you looking to develop and grow your business? 
Would you like your team to be able to generate more sales through building strong relationships? forever! 'Buying on demand' is now the way your prospective customers choose.
Does engaging an unknown trainer, paying ££££s, only for your team to forget what the course was about, fill you with dread? Then we can help. The way people buy has changed, 
Knowing how to build relationships and gain trust has never been so important.A new way of training – and more importantly – retaining the information and new skills.Combining 120 years of sales, leadership, and communication training, Novalead Limited, have created BecomeAnExpert.   Simple, quick, and highly affordable training you can work through as an individual or run in-house without the need for an external trainer. It took two years to compile BecomeAnExpert, condensing all Novalead's extensive knowledge, research, and experience into one simple product, suitable for SMEs in 2022 and beyond.
If your sales team is operating the same way it did before the pandemic, you are never going to achieve the results you desire. In fact, your new client acquisition could drop steeply over the next 12 months! So, what's the solution?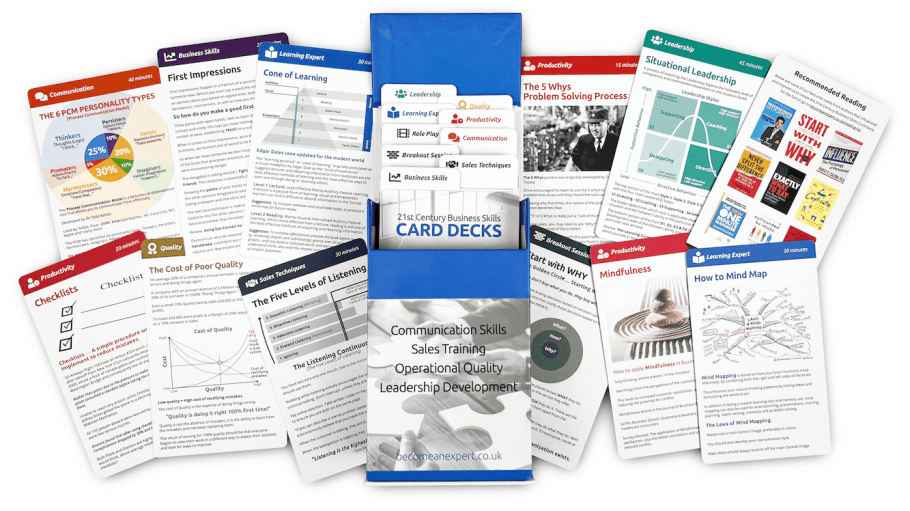 Introducing; 21st Century Business Skills CARD DECKSThe highest-level information, knowledge, and explanation for –       Communication skills –       Sales training –       Leadership skills –       Operational quality  in a desktop box, you can work through at your pace and revisit at any time!
"The quality of information contained in the card deck is incredible. You would have to pay over £1,000 to attend a course on just one of the sections – probably to forget it afterwards. I now have all the knowledge I need sitting on my desk to return to at any time. And it's so easy to follow and learn. I have everything at my fingertips."
Claire Taylor, Founder of Raspberry Flamingo
Sounds too good to be true doesn't it?But it is real. The Card Deck contains two types of cards: –       Skill & knowledge cards–       Breakout sessions and role play cardsSo, if you're training your team, or working through the skills with a colleague, you can use the exercises to reinforce the learning. It couldn't be easier. Each card tells you the approximate time you are going to need to spend on that skill… block out time to work through a section, or work through one card a day.
In no time at all you will have more knowledge and skill than you ever imagined possible.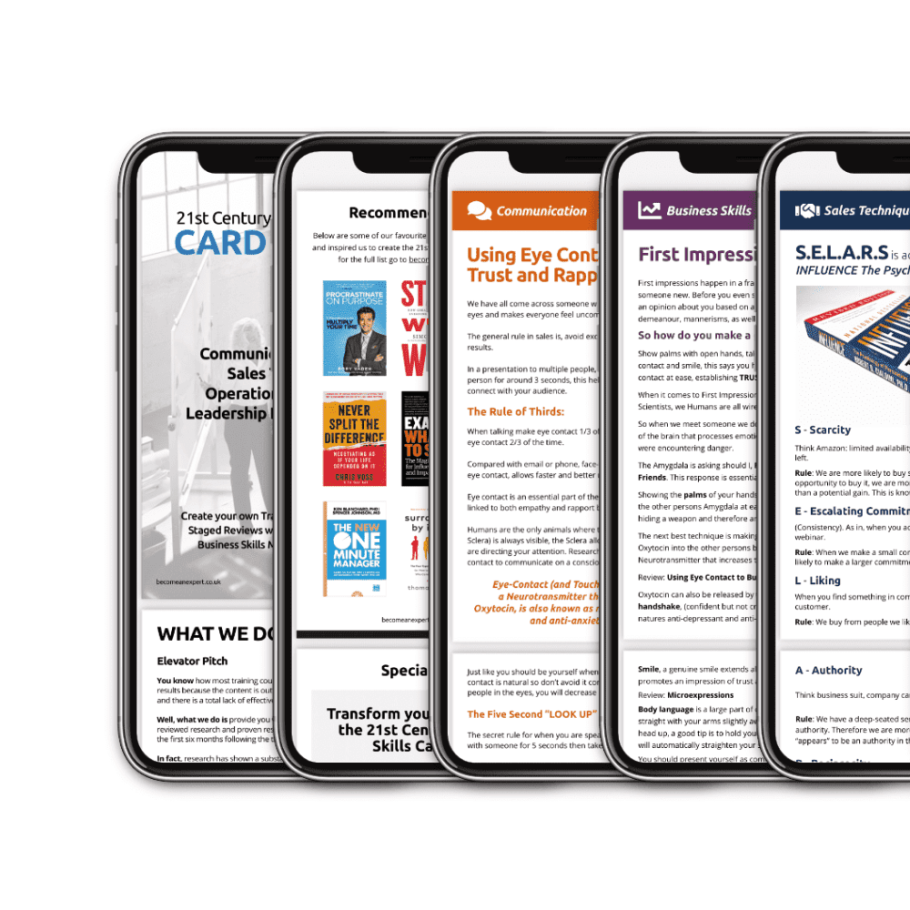 Available as both a physical deck and digital download to use on your smart phone or tablet.
Over 50 hours in-person training in one boxAt your fingertips, to learn or deliver at your pace.
Full instructions are included, and the Card Deck is backed up by pre-recorded videos for each section.
You really can't afford to miss out on this revolutionary way to gain new skills.
Research has shown that on average 80% of the content of a training course is forgotten in just a few days. Not anymore!  
When Novalead deliver in-person training, they follow up regularly with each and every delegate for a six-month period. This tried and trusted method has been one factor of their major success in the corporate training sector.
The Card Deck allows you and your team to revisit the training as often as you need without moving from your desk and without it costing anything extra.
Order online now using your Yorkshire Mafia 20% discount code: "YM20OFF" at becomeanexpert.co.ukTo find out more about our In-person and part-funded courses email: [email protected] or call us now on [https://tel:00443300535674]+44 (0) 330 053 5674
becomeanexpert.co.uk

Visit our site now at...